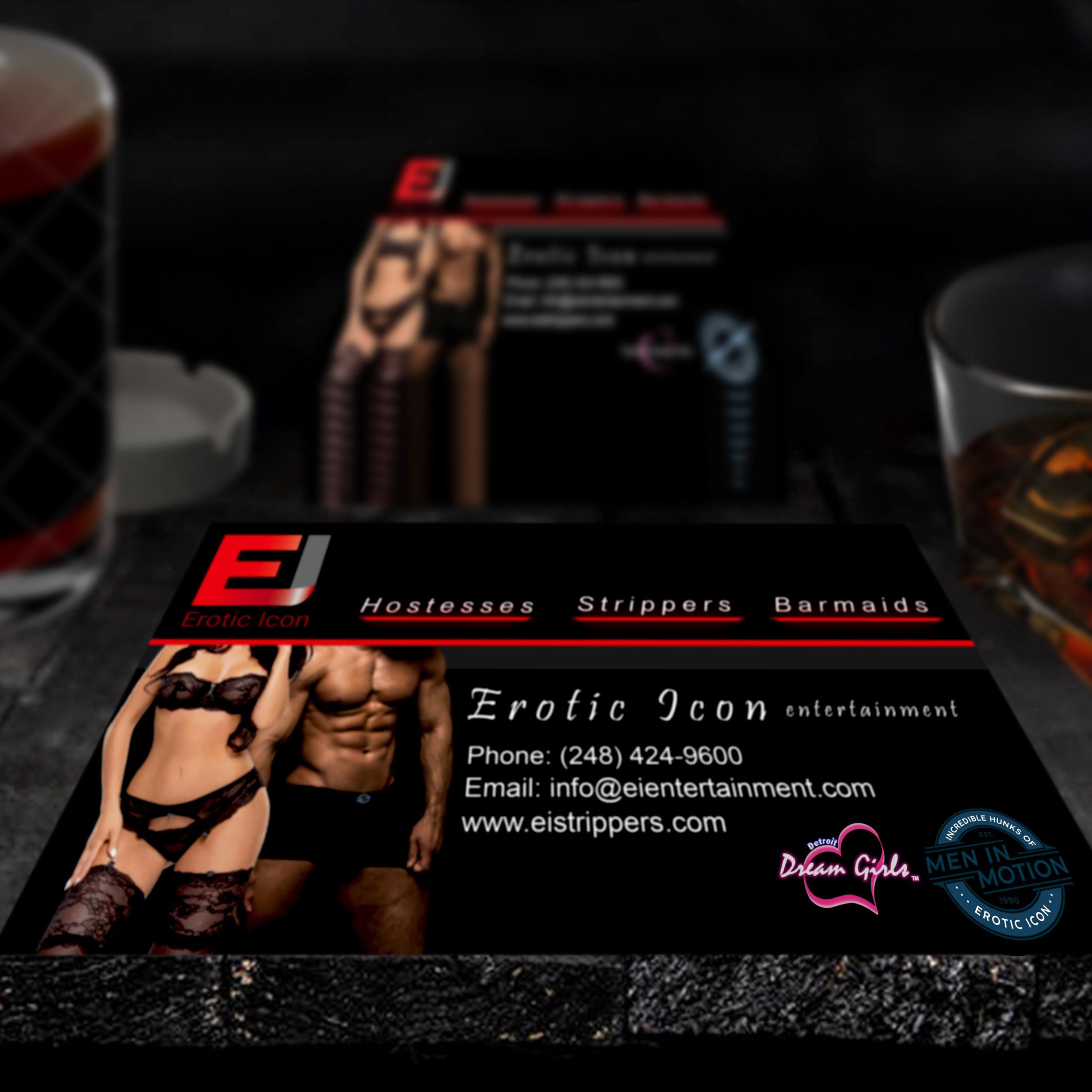 Erotic Icons, Inc. was established and incorporated in 1990 in the state of Michigan. The original founder started Erotic Icons by returning pop cans to place an ad in the local newspaper. The company opened its first office in Southfield, Michigan. The first day Erotic Icon opened its doors, our grand opening slogan was "Give the Gift that Unwraps Itself!" and it's still in use today.
We started as a provider of Live Entertainment in the form of a Strip-O-Grams in Detroit. Continually creating new concepts has made Erotic Icon one of a kind. In addition, EI has opened up new lines of services, like strippers, duos, trios, foursomes, hosts, and hostesses.
Over the years Erotic Icons has kept up with the trends and is still the most cutting edge company in the adult party entertainment arena. Our track record and the thousands of names on the list of our well-pleased clients speaks for us. Rest assured that you will receive the best services available, from customer care, to the quality of entertainment provided. Our number one priority is your 100% satisfaction as a customer, and our track record backs it up!
Do not let Amateurs and Imitators ruin your once in a lifetime event. Go with Experience. Go with the best…..Choose Us.
We have Detroit's finest female strippers, male strippers, party hosts and hostesses. We pride ourselves in providing the same high standards from downriver, to the northern suburbs of Detroit. Quality beyond comparison is our motto. Looking for the hottest Dancers in the business? You Found Us! Erotic Icon, where "Image is Everything". Don't Settle for Anything Less!
We guarantee our entertainers will be there on time, be professional, and do their best to make every party unforgettable! 
We will provide the most exceptional service possible, for the best price, from start to finish. No other company has withstood the test of time like Erotic Icon. We truly care about our customers AND the city of Detroit! 
At Erotic Icon, we go above the industry standard to give quality beyond comparison.
Our main mission is to take the Adult Entertainment industry out of the hands of strippers, escorts, out of state re-sellers, and criminals, and put it in the hands of professionals. Our business philosophy is to provide quality service and add professionalism that will lead to long-term business and success.
We remain very transparent about our services and what's included in our shows. Our price list spells it out in black and white with no deception at all. Our friendly office staff is on standby to answer any questions you may have.
We've always been picky about who we hire. We will maintain those standards and always screen, train and contract the hottest Male and Female entertainers in Detroit. Who represents us, makes or breaks our reputation. So we set the standard when it comes hiring our strippers, hosts, hostesses, models, and we have no plans to modify our standards. E.I. hires only the most beautiful and talented young Men and Women, and then trains them to become classy, sociable, and fun performers at your party. Erotic Icon provides the best you can get in Detroit!
Our brands represent what Erotic Icon stands for: quality, service, and complete professionalism that is unparalleled in this industry.
Our brands, The Detroit Dream Girls and Men in Motion, are part of the Erotic Icon Family. Both of our brands represent quality you can rely and depend on. For bachelor parties we have The Detroit Dream Girls, the Wild Girlie Girl Duos, Trios, and foursomes. For bachelorette parties, the hunks of Men in Motion will rock her world. For the conservative ones, we recommend a party host/hostess to take your party from mild to EPIC, and create an event that no one will forget. From mild to wild, our entertainers put on an amazing show catered to your needs.
Erotic Icon Inc. has withstood the test of time. We've gone through several recessions, and we're still standing. Our strength comes from our devoted dedication to upholding the utmost standards in hiring, customer service, and professionalism. Our loyal customers have always been there for us, in good times and bad.
With over 26 years of experience in the entertainment arena, we have dominated and revolutionized this industry to better serve our clients. No other company, local or nationwide, has been as successful or long standing as Erotic Icons. Erotic Icons has gone through a complete makeover to stay ahead of the times, but the quality and professional entertainment we provide will always remain consistent. We'll continue to expand our services to meet customer demands.
The difference between us and them: we set the standard and raise the bar in the erotic entertainment industry. Erotic Icons Entertainment grows bigger, better, and more efficient each and everyday (just like you cus you read this far). We will continue to be the leader in this industry. We will call out those who to try to tarnish this industry today, and for years to come. Contact us now and let us make your party one of the most memorable events of your life.